April 7, 2015 - Ezahni and Shaefu Formal Wear




Ezahni and Shaefu Formal Wear have been added to the credit shop for the next month.

Comments: 5 [ View / Post Comments ]
April 6, 2015 - Derp Effect Update
You may have noticed that the doodle/derp art is no longer showing on some of your creatu. We are converting the Derp art over to an actual effect that will be visible all year long. If the effect art is done for a creatu and has been changed to an effect you will be able to see it easily from the Pet Species page. To do this go to the top toolbar hover over Information and click on Pet Species Page. Once you have designated which creatu you would like to see with the new effect click the drop down bar containing all of the effects for that specific creatu and select Derp Effect preview.
After all the art has been transitioned over into the effect database, all creatu that were born on April 1st, 2015 will automatically be given the Derp Effect. Another update will be posted notifying users that all of the new art has been completed and the specific date that you will be able to hatch the creatu of your choosing with the Derp Effect.

Comments: 17 [ View / Post Comments ]
April 5, 2015 - Weekly Raffle Results!
The results are in! The winner for this weeks raffle was Duskshadow! Congratulations! The winning pot was 3,681,200 tu.
The raffle has been reset, and you may now buy tickets for next weeks drawing.
Comments: 1 [ View / Post Comments ]
April 4, 2015 - Updates
First off, I would like to offer our sincerest apologies to all Rescreatu users who have put up with the lack of updates and communication leaving our beloved users in the dark. Thank you for sticking around through the rough patches because very soon it will be well worth the wait.
I am very excited to tell you that Patrick has completed the foundation of V4 coding. Also, developments of the main site components such as the hatchery, user shops, forums, etc. have already begun. What this means is that all of Patrick's energies will be focused on V4 so that it can be completed as quickly as possible. The only way to speed up the process is to completely halt active development on the current site, which means that no new main features will be added into this version. Furthermore, the spring event and any other upcoming events will remain very similar to those events from previous years.

As of last week Rescreatu has hired 3 new Content Managers and they are currently in training. They are helping Crowflux and Dess with compiling all past suggestions and input from users and staff so that it can all be taken into account in order for V4 to be the best it possibly can be. Once there is a full list of data compiled on the features that we are going to implement and we have more of a handle on the information, we will be incorporating ways for the players to get involved. We are not exactly sure how we are going to do this, but we are brainstorming different ways and as soon as we are able to do this we will!

The site will continue to function as it currently has been except with more communication to our players. Support, Moderators, and Helpers will remain as they have been which means tickets will still be getting answered the same way and current site features will also continue to work as they have been.

We would like to address our lack of communication with the player base by releasing an update at least once a month informing you guys of the progress we have made since our last update and what you can look forward to in the coming month. It might not be the most exciting news, but you guys will know what is being worked on while it is being worked on.
As a start to our improved communication here is what you can look forward to this month:
Valentines and Christmas contest winners and prizes from the past events will be announced and given out.
Staff is working long and hard to complete the art for the Derp Effect and when this is finished very soon details on how to acquire the effect will be released in an update. Since we did not realize that the user base would be so taken by the Derp art and did not announce that we would be making it an effect until April 2nd, we will be announcing another date this month that the effect can be can be obtained. We will give you a few days' notice in hopes that everyone sees the update.
Spring events and egg hunts will be released towards the middle of the month.

We have placed Iluvu, Vaspi, and Ezahni back into the mix to be hatched Achromatic until April 15th since they did not get a full month in rotation for this color. The Shaefu, Berrok, and Meragon will continue to be active this whole month like the previous update stated so there is a chance to hatch all 6 of these in achromatic currently.
Finally, please congratulate Yoda, White, and Llama for making it into Content Manager training.
Llama will be working as both a Moderator and Content Manager.
Comments: 25 [ View / Post Comments ]
April 4, 2015 - Trance RSTU001 and RSTU002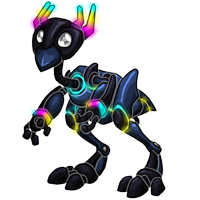 Trance RSTU002 has been added.
Trance potions now work correctly for both RSTU001 and RSTU002!

Comments: 9 [ View / Post Comments ]