February 11, 2009 - Premium Package & Others
The following two items are now stocking in the Holiday Shop for a limited time only.


Premium Package




The February Premium package has been released. It includes a new trophy and the following items: Roditore Cupid, Groundhogs Shadow, Chocolate Rosebud, Sweet Violets, Iluvu Chocolates, Ginger Heart Kayoki, Heart Collar, Flu Bug Squishy, Heart of Fire, What is Love, and Mamas Secret Recipe Card.











The January Premium package will be removed shortly. Also, the Regression Ray has now been removed from the credit shop.
Valentines Day Gift Shop
The Valentines Day Gift shop has opened a little early this year. Visit this shop each day to receive a holiday related item. Don't miss out on this! You can access this page at the games page, or by clicking below.
Click Here to Visit the Gift Shop
v2 Sneak Peak
Here is another sneak peek of v2 for everyone. This is one of our revamped planet maps. I'm sure you can figure out which one it is.

Comments: 47 [ View / Post Comments ]
February 11, 2009 - New Support Member
We would like to take a moment to congratulate Adri, as our newest staff support member!
Comments: 37 [ View / Post Comments ]
February 11, 2009 - Weekly Raffle Results!
The results are in! The winner for this weeks raffle was luvin0it! Congratulations! The winning pot was 1457050 tu.
The raffle has been reset, and you may now buy tickets for next weeks drawing.
Comments: 15 [ View / Post Comments ]
February 11, 2009 - Name Tag Issues
Hey guys,
We've gotten a few reports recently about issues with the Name Tags. Some players have had problems when they try to swap their pets names by using name tags. For example, you have a pet named "Joe" and you want to name another of your pets that. So you use a Name Tag to change Joe's name and another name tag to give the name "Joe" to another one of your pets.
Now, most of the time this will work. Some people have reported issues where it says the name of the pet is still taken. Let me explain why this is.
There was a bug that would allow users to hatch pets with a duplicate name. It wasn't checking the names of the pets in the graveyard for a long time. So, you might have gotten a good name that wasn't really available. You got a duplicated name.
What happened is, the script was fixed and now it verifies for duplicate names in the grave yard. So pets you hatched with a name may be a duplicate. When you try to swap names, the game will now recognize that it was a duplicate and give you an error message.
So, be careful when you are using a name tag in this fashion. The name of your pet may be a duplicate.

Comments: 22 [ View / Post Comments ]
February 11, 2009 - Berrok Revamp
Berrok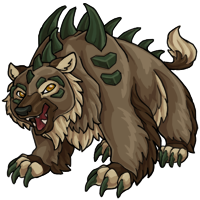 Thanks to Xeeroh, the Berrok has received a new revamp. All natural colors are currently available for it.
Comments: 146 [ View / Post Comments ]