Updates
November 21, 2021 - The Harvest Festival is here!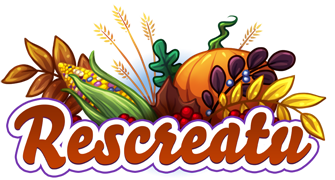 The crops are bursting from their fields underneath the last sunlit days of autumn, and so the Harvest Festival has come once more!
For one week only, pets will not lose health or hunger from daily reset or while exploring!
(This is a great time to Explore the planets and increase your pets' Nourishment!)
Some new treats have been spotted across the planets in Explore.
Autumn squishies and festive foods alike, you won't want to miss these!




Not so much a keen adventurer?
Maybe questing is more your style?
Not to worry: Some of our favorite characters have spent time collecting these items so that you don't have to!
They'll be handing these out at random as rewards for helping with their quests.
Pie Baking Returns

To celebrate this time of prosperity, Ethan created a new range of pies to make the most of the season's yield. Orders are coming in thick and fast but now he can hardly keep up!
Maybe you can bake enough pies to earn some special milestone rewards, or maybe you'll even manage to top the leaderboard?
For this event, the leaderboard prizes will be as follows:
Top 10 users
3 Mahina Eggs + 500 Relking Coin + Gold Trophy
Top 25 users
(excluding the top 10)
1 Mahina Egg + 200 Relking Coin + Silver Trophy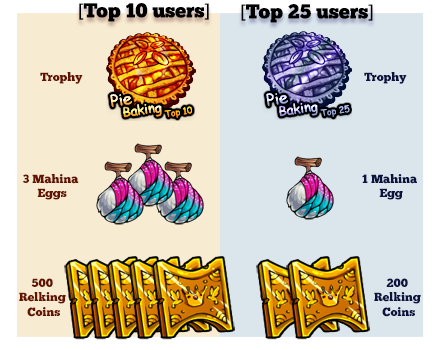 The milestone prizes are:

10 pies baked
A shiny new Forum Avatar to let everyone know that you are a pie-baking prodigy!

25 pies baked
100 Relking Coins to spend on some of Rescreatu's finest wares.


50 pies baked
A wearable Pie Scarf to wear during your next kitchen adventure + a Trophy to show off your pie-baking prowess.

We have also added two recipes to make your own Pie Crust in the cooking basin:
Any Creatu cracker (from the
Food Quest
)
+
Stick of Butter
=
Pie Crust
Plain Flour Bag + Bottle of Water + Stick of Butter = Pie Crust
Corn Husk Dolls







Who knew that such lifelike dolls could be made from simple corn husks?
For a short time, corn husk doll containers can be found in Pet Exploration!

Each container holds a selection of corn husk dolls representing that planet's species. Each container can be found on its respective planet, except for the Uldavi and CS Corn Husk Doll Container, which can be found across all the planets.
Ethan also managed to get his hands on a batch of these dolls and will be handing them out for every three pies you bake, as thanks for your help.
Whew, it certainly is the season of abundance!
Where will you start?
☼ The Harvest Festival will be ending on November 28. ☼
Comments: 7