Updates
September 13, 2020 - Gnarly Luau 2020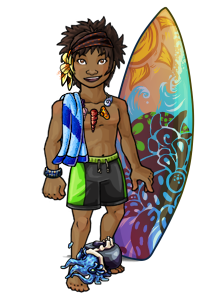 My radically awesome dudes and dudettes, how's it hanging? Trip with my little buddy Kai here. I'm hyped you helped me find her and totally thankful for all the items you collected for this awesome luau. It's a total bummer that the summer heat is slippin' and the waves are gettin' cold. Summer really is winding down, and we don't have much time left for the Gnarly Luau. Get all you snacks, firewood, and flowers in ASAP!
The Gnarly Luau will close on 9/15/2020 at 11:59:59pm Res time.

The top 50 people who help us out the most will get a totally tubular tube and the top 25 might just get two! But don't bite down just yet, these doughnut floats look a lot more delicious than they are. Come help us out by clicking this button, or finding it on the sidebar.
Fashion Update!
The swimsuits and swimming trunks found at
Fashion G
alore
can now be worn by both male and female avatars. Go get your gear, before the summer ends!




Comments: 3