Updates
September 6, 2017 - Spooky Contest Time!
Greetings, people of Rescreatu!
With Halloween brewing in the distance, we're inviting you all to get involved in designing some items for this year's Trick or Treat!



We're holding a contest where we'll be picking four winning entries (two tricks and two treats) for Rescreatu's artists to bring to life and release on site!
The contest is being run on site as well as across our social media platforms. Click the trick or treat button below to be taken to the forum thread for full details!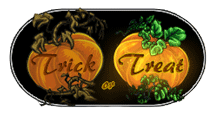 Comments: 4