Updates
September 3, 2017 - Gnarly Times Ahead!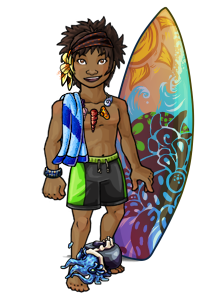 My radically awesome dudes and dudettes, how's it hanging? Trip with my little buddy Kai here as usual, coming to tell you all that the
Gnarly Luau
planning has started, and we need your help to get it running! The 50 people who help us out the most will get a couple of gnarly rewards! Come help us out by clicking this button, or finding it on the sidebar.

If you want to have some fun in between, try out our
Sand Castle
game - where you can get yourself a gnarly trophy, or maybe find a starfish to stick someone with!



I'm also hosting my annual
Seashell Hunt
, where you can find yourself a fancy set of seashells, and a nice reward if you manage to hunt them all down, so get out there and get hunting!





Can you find these new Hidden Avatars?









Notice from Staff:
Please do not share solutions to this Event in any public place on site.
This includes: News Updates, Shout Box, Forums and Blogs.
If you need to ask for help, please request it from your respals privately so that other players are not exposed to spoilers. You can also rmail any Assistant who is online- they're the users with the pink name. Thanks for your understanding!
Comments: 17