October 4, 2021 - Circus is Open!

Well, it's been a bit longer than perhaps we would have potentially planned for, but the show must go on--and it's going on as we speak! Thanks to all your wonderful work, the circus is open! Please step right up with your tickets ready--we've got folks performing round the clock for your entertainment, so you don't have to worry about not being on time! And if you weren't able to get a ticket pro bono, we'll be selling circus tickets for carnival tickets in the prize hub!
Your Scrapbook will be accessable after the Carnival ends!




The Carnival Games section will close on Wednesday, October 6 at 11:59:59 PM RST. Please ensure that you play the games as much as you'd like until then!
Comments: 11 [ View / Post Comments ]
October 3, 2021 - Weekly Raffle Results!
The results are in! The winner for this weeks raffle was nykur! Congratulations! The winning pot was 58,326,025 tu.
The raffle has been reset, and you may now buy tickets for next weeks drawing. Remember, the starting pot is always 25,000,000TU, so grab your tickets for a chance to win!
Comments: 0 [ View / Post Comments ]
October 2, 2021 - OAK Creatu are back!!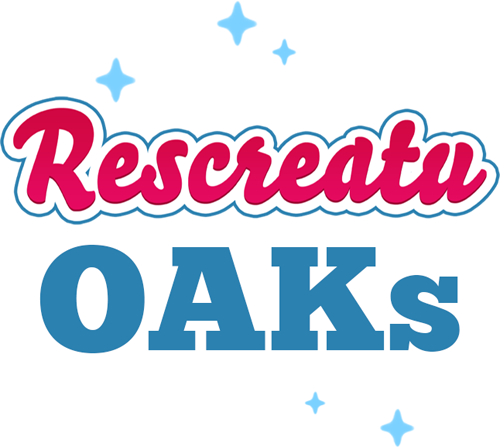 The time has finally come: OAK Creatu Custom Effects are here!!
Custom Effects are a One-of-A-Kind effect that you can apply to your Creatu which no other player will have. Any Creatu species in any color can receive an OAK Effect.
We are introducing a new art approval process to obtain an OAK Creatu through user-submitted content.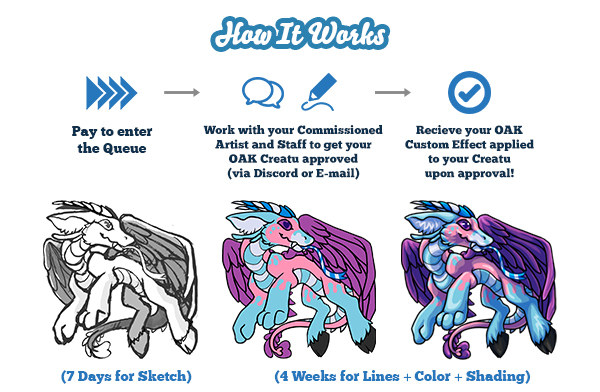 To begin the process you must buy a slot in the queue. To get your own Custom Effect, you must find your own artist, on or off site, and commission them to create a Custom Effect using the Rescreatu Art Style. You and your commissioned artist will work with qualified site artists to guide you through the art approval process, from sketch to finished art graphic.
(Site artists may offer commissions if they wish, but site artists will not be responsible for making your OAK Creatu as they had done in the past.)
Currently there are 10 slots total in the queue, but this is subject to change as we figure things out. At the moment Crowflux is the only site artist qualified to approve new OAK Creatu art. So we appreciate your patience as we figure out this new system.
(Additionally, staff members will be temporarily unable to buy any queue slots to allow users to take full advantage of this launch.)

You can find all the information you need on the
Queue page
!
At the time of posting this update, the Queue will not be open yet to give everyone time to prepare. For this launch, the 10 slot queue will open in two parts to give people in different time zones the best chance possible to get a slot:

First 5 queue slots will open October 4th 2021 @ 12AM (Midnight, RST)
Last 5 queue slots will open October 4th 2021 @ 12PM (Noon, RST)
(RST - Rescreatu Site Time)

We're looking forward to helping create beautiful OAK Creatu with you! ♥
Comments: 20 [ View / Post Comments ]
September 29, 2021 - Magnificent Trunk!
NEW CASH SHOP CLOTHING PACK!

Juniper has such a great style! Haven't you always wanted to look like them?
Introducing the Magnificent Trunk! Inspired by the wardrobe of Juniper, the pack contains the following items:










The Magnificent Trunk can be purchased from the Cash Shop for 100CP. It will be sold in the Cash Shop until the end of the Creatu Carnival.
We aren't quite sure when that will be yet, as there is more to come :-) There's still plenty of time left. Stay tuned!
Comments: 6 [ View / Post Comments ]
September 28, 2021 - In Loving Memory
We would like to take a moment to fondly remember AriaKaye1,
a user who left us all far too soon.
Most knew her as lighthearted, approachable and friendly. She was a member of our community since 2008.

Here are some of the things that other players had to say about her :
"..Aria was always like a rainbow whenever she was in the SB.
She was humble, sweet, always made us laugh, she was very generous and would offer to help everyone with anything whenever she could.
I have never seen her being anything but nice to all of the people she interacted with.
I think Aria was like the SB's nice aunt or grandma that always had a good word for you. She is/will be missed deeply by everyone that has interacted with her at least once..."
"..About Aria, I remember she was always nice..
Last year in April when I hatched all my Jahra eggs for derp days and got natties she sent me a black Jahra for free.
She didn't have to do it at all, but I appreciate it and I am still keeping it in my showroom. Its one of my very special pets ❤️.."
"..Aria was always patient and kind. She had her quirks which made her fun to talk to! As long as she could help you she would. I'll really miss her.."
The AriaKaye1 Memorial Squishy can be found in the squishy shop.
Comments: 32 [ View / Post Comments ]